Hair Guitar and PUMP
at Normandie Casino - Gardena
By Brian Walker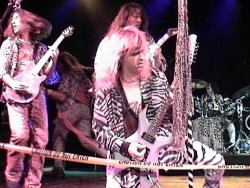 When the curtain at the Normandie Casino pulled open and the sounds of Quiet Riot's Metal Health began playing, I was instantly transported back to the Sunset Strip, circa 1983. In fact, what I was witnessing was the Ultimate 80's hair band tribute, Hair Guitar, and I stayed in that era for a 90+ minutes virtual tour of the classic 80's music that I grew up with, played to perfection by these veterans of that music era.

Lead by Stu Simone, this group of 5 guys PERFECTLY
re-created some of the truly classic 80's metal songs. From "Round and Round" by Ratt, to Motley Crue's "Smokin' in the Boys Room", Hair Guitar nailed every solo, every riff, every head banging chorus, and every heart pounding drum solo to perfection, working this huge stage and give the fans exactly what they wanted: A One-Way trip to Hair Band Heaven! They were on their feet, dancing, hands in the air and singing along as each classic song took them back a little bit more to the time when Metal ruled the world.

Dipping into their experience as members of Journey Tribute bands, they played "Stone In Love" and then jumped right to Whitesnake's "Here I Go Again" and followed that with Bon Jovi's "Livin' on a Prayer". With each transition, every member of the band took turns sharing the vocal and lead guitar duties giving the large crowd something to cheer about AND sing along to the WHOLE night long!

With more trips in variety from Eddie Van Halen's famous "Eruption" to Sister Christian's "Rock in America" to Def Leppard's "Rock of Ages", they showed their musical talents AND sense of humor with jokes (Including an Official Hair Spray Girl) and just PURE entertainment! Pulling from his experience as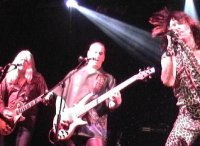 the keyboard player for Poison in 1999 and 2000, Stu took us through a melody of Poison's greatest hits; "Every Rose has its Thorn", "Unskinny Bop" and "Talk Dirty to Me."

Finishing off the night with Kiss' world famous Rock and Roll All Night, that trip to the glory day of Rock and Roll was complete, thanks to the 5 talented guys in Hair Guitar. If you truly miss that day of wild spandex pants and teased up rock and roll blonde hair, Don't miss Hair Guitar!! Just make sure to be ready to ROCK AND ROLL ALL NIGHT!!!

Opening the show was PUMP, the Ultimate Aerosmith Tribute Band. From the moment the curtain pulled back, Pump kicked some MAJOR ass at the Normandie Casino to a great crowd that was So ready to ROCK AND ROLL!!!

Copyright © 2003-2004 All Access MagaCopyright © 2003-2004 All Access Magazine. All Rights Reserved
All Pictures, Articles and Logos are Copyrighted© and Registered® to their Respective Owners.