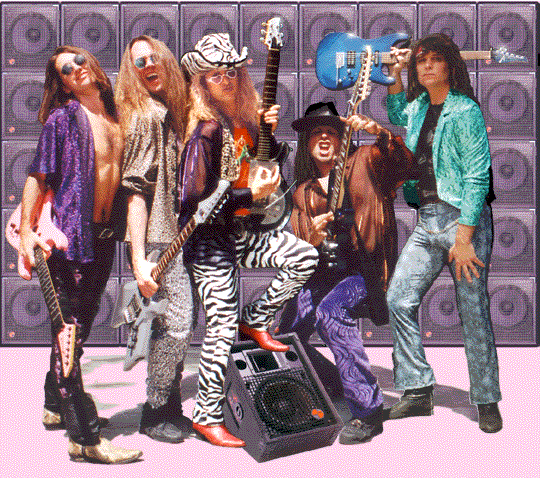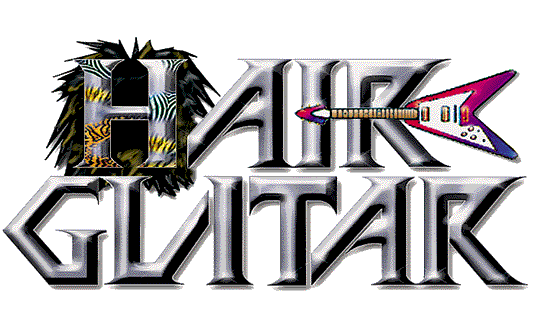 The Authentic '80s Rock Tribute
From Los Angeles, CA-- birthplace of Poison, Motley Crue, Van Halen, Ratt, Great White, Warrant, Dokken, Quiet Riot, Guns & Roses, Love/Hate, Autograph, Winger, LA Guns and more --comes HAir Guitar: The Authentic Tribute to your favorite 80's rock bands! Why "Authentic?" For one thing, we still have the clothes, the axes, and yes, the real big hair that we had in the glorious '80s. And back in the day, HAir Guitar leader Stu Simone (aka Stude "Snake" Slybone) was headlining the same legendary Sunset Strip clubs as the big boys [ see the "HAIR ROOTS" photo gallery ]. Stu played in LA's top hair bands with members of Ratt, Quiet Riot, Bullet Boys, LA Guns, Megadeth, Black Sabbath, Love/Hate, UFO, Journey, Hurricane, Foreigner, MSG, Bang Tango, and Rising Force, among others. In the early 90's, when original melodic rock became "unsignable", Stu entered the tribute fray, co-founding the West Coast's top Journey tribute band. As musical director of ESCAPE and sub for other top tribute bands such as Smokin' and Infinity, Stu Simone is a fixture on the rock tribute scene. In fact, he was interviewed in "Tribute", the definitive documentary on tribute bands. As the 90's came to an end, Stu was asked to play keys and vocals for the triumphant reunion tour of the #1 hair band of all time (according to VH-1), Poison. In 1999 and 2000, Stu played to nearly 500,000 screaming hair-metal fans, and sang and played on Poison's 2000 release, "Power To The People." For current info and gig listings, check out Myspace.com/StuSimone and Myspace.com/HairGuitarRocks.
With over a decade at the top of both the tribute and original '80's rock scene, for "Stude Slybone" all roads lead to… HAir Guitar! This ain't no act... it's the real deal!
"But," the skeptics argue (and there's always a "but"), "will they come?"
Ok, many of us won't admit it, but we really do miss the rock of the '80s, what music historians may remember as "The Age of the Hair Band." You know, when the songs were strong, the hair was long, melodies soared along, solos weren't considered wrong, and we partied with a… In other words, rock'n'roll before the brooding shoe-gazers came along and decided that dressing up, putting on a real stage show and singing about promiscuous sex-- or singing at all! --were un-cool. If it's so passé, then how come every city in the US has at least one classic rock radio station, VH-1's retrospectives are among their most popular shows, and such supposedly unfashionable bands such as Kiss, Poison, Bon Jovi, Motley Crue, Def Leppard, Van Halen, and Aerosmith are touring each summer in 15,000-seat venues?
HAir Guitar founder Stu Simone got to experience this surprising "silent majority" first hand, as he played and sang on-stage with the original four members of Poison for their triumphant re-union tour in the summer of 1999. With no new album to support-- nothing but the fans' love of pre-alternative rock --Poison played to full houses all over the country (up to 40,000). Some of the bands that opened for Poison were The Doobie Bros., Sammy Hagar, Ratt, Cinderella, Great White, Dokken, Slaughter, LA Guns, Pat Benatar, Canned Heat, Joan Jett & the Blackhearts, and Survivor.
were The Doobie Bros., Sammy Hagar, Ratt, Cinderella, Great White, Dokken, Slaughter, LA Guns, Pat Benatar, Canned Heat, Joan Jett & the Blackhearts, and Survivor. Yes, there are still Hairbands... and HAIR FANS! The only Poison sideman ever to play on stage with the band, Stu introduced the band each night, and can be seen in the last segment of one of the highest-rated VH-1 "Behind the Music" episodes ever (on the 1999 Poison re-union).

After the tour, Stu played on drummer Rikki Rockett's "Glam Tribute" CD "All That Glitters."

In 2000, Poison released their first new album in years, "Power To the People"--

recorded live during the '99 tour (with SS on keyboards and harmony vocals)

--and then toured again to more screaming crowds.

Yes, it may be unfashionable as hell, maybe even politically in-correct, but the fact is that there is a huge audience for "hair band music." So the time is ripe for a TRIBUTE TO HAIR BANDS, and what better person to lead it than "Stude Slybone", who's rocked in both tribute bands and multi-platinum hair band headliners?

So let HAir Guitar take you back to the days when the bands-- and the fans-- were dressed to kill. No jeans, t-shirts, tattoos and tennies here, but some of the flashiest (and hard-to-find!) glam clothes on the planet. No shoe-gazing allowed! Instead, high-energy choreography and all seventeen of the classic rock star poses, plus 49 variations!

And there are so many great SONGS

, from

killer rock anthems like "Rock And Roll All Night", "We're Not Gonna Take It" and "Cum On Feel The Noize", to classic arena power ballads like "Every Rose Has It's Thorn" and "Heaven." We do everything true-to-form, from the the authentic talkbox in "Living On a Prayer" to the shredding dual guitars of "Don't Tell Me You Love Me," and it's all 100% live! [see HAir Guitar song list

].

Only five "ALL-STAR" PLAYERS could perfectly re-produce these songs --musically and visually-- and HAir Guitar has them! These serious rock dudes have played in various musical projects with members (past and present) of Poison, Quiet Riot, Ratt, Great White, LA Guns, Bullet Boys, Journey, Foreigner, The Sweet, Whitesnake, Yngwie Malmsteen, and Michael Schenker to drop a few names. Flowing blonde frontman Stude "Snake" Slybone adds keyboards, talkbox, slide guitar, and harmonica to his lead throat; king of choreography Angus Ziagra nails great rock vocals like John Bon Jovi and Tommy Shaw in addition to note-perfect guitar solos of the likes of Michael Schenker and Warren DiMartini; Diamond Dave Coitus stands tall as a triple threat on shreddasaurus lead guitars (how 'bout Steve Vai and Jeff Watson for starters?), keyboards and vocals; Bjorn Jovi wails on Warrant while he brutalizes the bass guitar and whirls his waist-length hair, and Hairy Pounder slams "drums and concussion" with twirling sticks and all the tricks! With four singers and up to three lead guitars at a time, get ready for some over-the-top hi-voltage rockage! And perhaps most important of all... all that long hair you see flying around up there is our real hair!